OUR MISSION IS TO PREVENT DISEASE AND PROMOTE HEALTH SO YOU CAN STAY YOUNGER AND LIVE LONGER
Are you ready to unveil the healing path? Your journey starts here.
Whether you're looking for information on how to prevent cancer or to live with it
following a diagnosis, the internet is awash with hints, tips, and advice. The problem is
trying to wade through this sea of data, statistics, and advice to find the most credible
sources and best advice. Here, we do that for you.
Killing Cancer Kindly (KCK) is the only organization working on cancer
prevention, awareness, and treatment without geographical limitations. Dr M M Khan the
founder of KCK has a vision of a world where each of us kills cancer kindly within our
own bodies before cancer metastasizes out of control. KCK aims to bring the cancer rate
down to less than 5% instead of the current 50%, nearing 60% in the next five years. In
a world where a vast amount of information is 'just a click away,' KCK aims to make
sense of it all, distilling it down to a level of knowledge and understanding that is of
practical use to the non-academic audience. KCK also tends to prove that preventing
and treating cancer does not have to be a brutal and ruthless process that takes a toll on
your body. There are kinder and more effective ways of preventing, treating, and curing
this disease.
DR KHAN'S KCK MISSION IS INDEPENDENT OF HIS WORK WITH THE NATIONAL
HEALTH SERVICE (NHS) UK
Whether you're looking for information on how to prevent cancer or to live with it following a diagnosis, the internet is awash for hints, tips and advice. The problem is trying to wade through this sea of data, statistics and advice to find the most credible sources and best advice.
Here, we do that for you. Dr. Khan is an experienced oncologist currently working at Queen's Oncology and Hematology Centre in East Yorkshire, UK a tertiary care cancer center.
Killing Cancer Kindly is the result of years of painstakingly analyzing the available web content and combining it with Dr Khan's extensive oncological experience to create a comprehensive and pragmatic list of 'Dos' and 'Don'ts' for anyone affected by cancer.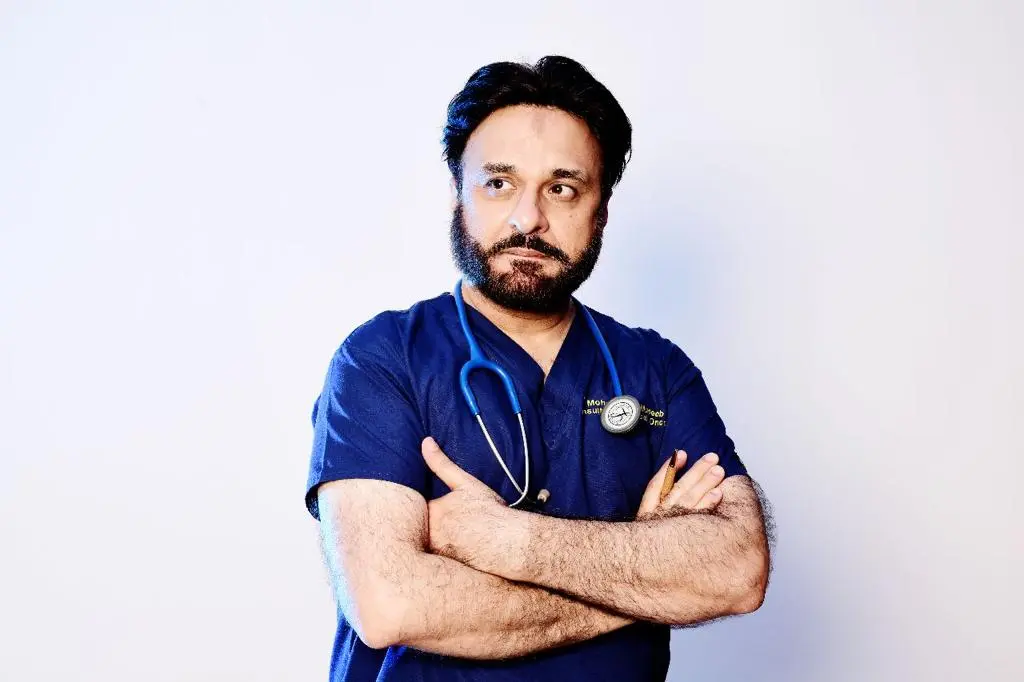 Dr Khan – M.B.B.S, M.R.C.P (London), MSc Clinical Oncology (Birmingham University), F.R.C.R (London) – is a Clinical Oncologist working in NHS England with 25 years of clinical experience in the field of General Medicine and Oncology. He has also been a Principal Investigator for multiple national and international Cancer Research Trials. Dr Khan has also taught in a medical school and is currently involved in the teaching and mentoring of junior doctors and medical staff. His passion in life is preventing and curing cancer, a mission that he has been committed to since the age of 15. He is the founder of UK based international cancer awareness and education charity Killing Cancer Kindly.
Understanding what cancer really is
Discovering how our bodies are constantly killing potentially cancer-causing cells in a daily fight against the disease.
Ways to delay the onset of cancer even when it is inevitable
Simple daily tasks that can help create a safe living environment around us and help prevent the onset of common cancers.
Understanding and mitigating the effects of alcohol and tobacco in relation to cancer.
How sex effects the risk of cancer.
Understanding the relationship between cancer and drugs
Learning how to avoid outlandish cancer treatments that simply don't work
How sugar can effect cancer
The unexpected benefits of certain foods and drinks, including chillies and coffee
Understanding how diets can effect cancer
When cancer screening is worthwhile
Ways to help make cancer more responsive to treatment
The future fight against the disease – including the authors thoughts and theories and details of some ground-breaking methods of tackling cancer that will soon be available to patients.
WATCH OUR DETAILED VIDEOS ON YOUTUBE
DID YOU KNOW THAT YOU CAN STOP DEPRESSION IN 7 SECONDS?
Shine a Light on Breast Cancer
DR. M M KHAN ON BBC RADIO HUMBERSIDE WITH DAVID BURNS

 
DR. M M KHAN ON BBC RADIO LEEDS WITH HOST LIZ GREEN
YOUR PATH TO WELLBEING BEGINS HERE

 
IS OVEREATING AFTER FASTING A STEP TOWARD BAD HEALTH?
DOES CANCER CELLS IN OUR BODY CONSUME MORE THAN NORMAL CELLS?
THE D.A.N TECHNIQUE BY DR. KHAN
BOOK REVIEWS
If you haven't already, make sure to get your hands on a copy of this extraordinary book.
Here are just a few snippets from these esteemed sources:
"Everyone fears the Big C, but this powerful and comprehensive guide provides an easy-to-understand A to Z of preventing and treating cancer – an essential read for everyone."
Richard Moriarty, The Sun

"Statistically, one in two people will develop cancer during their lifetime but as crusading cancer specialist Dr Khan explains, there are many simple things we can do to minimise the risk of developing the disease. Cancer prevention begins with reading this book."
Chris Riches, Daily Express

"Who could have imagined that learning about preventing and beating cancer could be so entertaining. The human body automatically fights cancer every single day, and by reading You'll Wish You Were an Elephant the mind can join the battle and together turn the tide on the disease."
Stories.SWNS

"No book has gone further in helping reframe cancer as a more preventable, treatable, and curable disease. You'll Wish You Were an Elephant deserves a prized spot on every bookshelf. It's the one reference that is essential reading for all."
The European

"The definitive A-Z handbook of cancer prevention. By following Dr Khan's expert guidance, you will transform your body into the ultimate cancer-killing machine."
The London Economic

"What kills cancer helps us stay younger and live longer. A lifetime of effective cancer prevention begins by reading this book."
Female First

"A book like this comes for review once in a lifetime. With incidence of cancer on the rise all over the world, and the prohibitive cost of its treatment, prevention is the answer. Well-referenced and researched, this book will be the authoritative guide for prevention of cancer. Easy to understand with simple measure and recommendation that anyone can adopt. This is a must-read for medical professionals and non-professionals alike. A library without this book is incomplete on the subject of health, especially cancer."
Dr Shahid Idris Mufti MD, USA

"The first anti-cancer guidebook."
Liverpool Echo

Hey Everyone!
We have exciting news for you. If you're a fan of Dr.Khan and would love to get your hands on a signed copy of his book, we've got you covered!
Dr.Khan is delighted to offer personalized signed copies of his book. Whether you're a long-time admirer of his work or new to his writings, this is an incredible opportunity to own a unique edition with a special message just for you!
To secure your very own signed copy, all you need to do is contact us via email at kckwithdrkhan@gmail.com. Drop us a message stating your interest in a signed copy, and we'll take it from there. Make sure to include your name, address, phone number and any specific details you'd like Dr. Khan to include in his personalized message.
Plus you can also reach out to us if you have any questions regarding the book. We would love to hear from you!
Thank you for your continued support, and happy reading!